Contact Info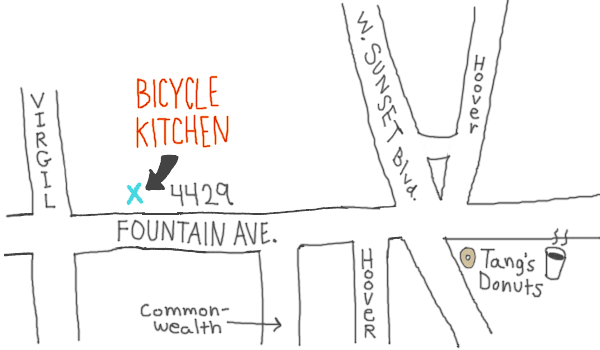 4429 Fountain Ave, LA CA 90029
That's two blocks west of Sunset Blvd... not far from
Tangs Donuts
! In Silver Lake.
Google Map it
GO METRO!
We are within walking distance of the Vermont/Sunset stop on the Red Line. Come on the train, leave on a bike!
We now accept credit cards.
Phone:
(323) NO-CARRO or (323) 662-2776
Email:
kitchen@bicyclekitchen.com
Media Inquiries:
pr@bicyclekitchen.com
Hours of Operation:
Monday
12:00 to 5:00pm
Monday Night:
"Bicycle Bitchen" (Ladies & Transgendered only): 6:30pm to 9:30pm
Tuesday thru Thursday:
6:30pm to 9:30pm
Saturday & Sunday:
12:00 to 6:00pm
(NOTE: Saturday and Sunday from 3-6pm is subject to closure should we not have the Cook power to remain open.)
Support for the Bicycle Kitchen has been provided by the Metabolic Studio, a direct charitable activity of the Annenberg Foundation led by Artist and Foundation Director Lauren Bon.site by T.G.H.